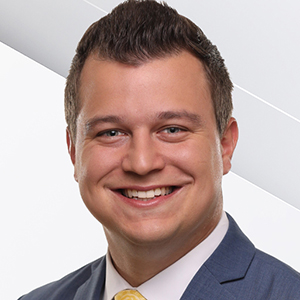 Ben Bobick
Sports Director
Local 3 Sports Director Ben Bobick joined the Local 3 Sports team after two years on Florida's Suncoast at SNN-TV in Sarasota, FL. After spending time as an MMJ and morning anchor in Sarasota, Ben is very pleased to finally follow his passion into sports.
A big second half run from the Owls is enough to send Tennessee home from the NCAA Tournament in a New York minute. 
Olivier Nkamhoua leads the way with 27 points as the Vols are off to the Sweet 16 for the first time since 2019.
Tennessee stays undefeated at home in first round games and will advance to play twelve-seeded Toledo on Monday at The Summitt. 
Tennessee had to earn every bit of their first round win as they set up a date with Duke in the second round in Orlando. 
Addie Grace Porter is the motor that keeps on running for a Mocs team looking to shock the world on Friday at Virginia Tech in the NCAA Tournament.
It's a return to Blacksburg for head coach Shawn Poppie who spent the last six seasons as an assistant coach with the Hokies before taking the job in Chattanooga. 
The Vols will take on No. 13 seed Louisiana in a late night game on Thursday in Orlando, FL.
For a 19th time, the Lady Vols will host first and second round action as they open the tournament against No. 13 seed Saint Louis.