Facebook helped deputies identify the man they thought groped a woman and assaulted her husband, but now they know they got the wrong person.
They arrested a 25-year-old Blake Eshenroder who lives in Knoxville. He contacted Channel 3 to clear his name after authorities apologized for his 15 hour stay in jail for a crime he didn't commit.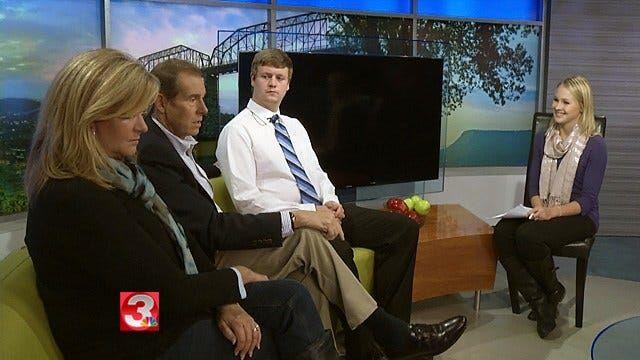 "We feel like someone, somewhere should be held accountable," said William Eshenroder, Blake's father.
A few weeks ago Hamilton County Sheriff's Deputies went looking for Blake Eshenroder with an arrest warrant in hand.
The University of Tennessee senior was wanted for assault, sexual battery, vandalism and disorderly conduct.
The only problem? Police were going after the wrong guy.
"I don't know any of these people, don't know what they look like, don't know who they are, don't know everybody's name," Blake Eshenroder said.
To the Sheriff's Office, this seemed like a solid case. Kelly Cronin and her husband had injuries to prove it.
"Fractured his eye-socket, he eventually had to have plastic surgery, three emergency room visits," Cronin said.
After a fight broke out during a Halloween party on Mill Stream Drive in Chattanooga, victims and witnesses to the assault said the guy who did it was Blake Eshenroder.
"The first thing you do is ask, do you know the subject?" said Chief Deputy Allen Branum, while explaining the suspect identification process, "And if they say yes you proceed that and try to verify as best we can but sometimes we have to depend on either victims, witnesses to make positive identification."
With a positive identification from the victims, police got an arrest warrant in Eshenroder's name. They told him to turn himself in, or they'll bring him in.
The Cronins now know, those charges are meant for another person.
"Him and myself never looked at any picture in a cop car, never identified anyone, it's just the person that brought him and everyone else at our party that night was saying we got him, we got him," she said, "We know who he is, his name is Blake Eshenroder."
Eshenroder made the drive to Chattanooga with his mother, expecting to clear his name.
Instead, he was booked into the Hamilton County jail. 
For the next 15 hours Blake says he stood in the corner of a holding cell because it was too crowded for him to sit down. He says he didn't eat a meal or get to speak with a detective.
His mother, Stacie Eshenroder, slept in her car outside, unwilling to leave her son's side.
"I looked up at the sign that said "Fugitives and Sex offenders" and as a mom, that's just horrible," Stacie Eshenroder said.
Blake says he felt like he had to prove his innocence, telling everyone and anyone he hadn't even been to Chattanooga in the last 5 years.
Chief Deputy Branum said when his office was made aware of Eshenroder's claims, they went back to the victim to get another confirmation.
"When that came up we actually called the victim and had them view another photograph and they said yes that is the person," Chief Deputy Branum said.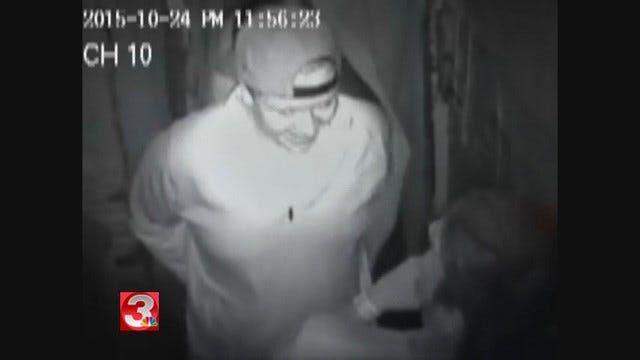 Doing his own investigative work, Eshenroder got surveillance video from a haunted house in Morristown.
That's where he was the night of the party in Chattanooga during the assault.
"I would go to anyone who would listen to me and say please, please, we have proof, I even have have a picture on my phone he was at the haunted house," Stacie Eshenroder said.
The only thing that connects Eshenroder to the party, is one party-goer who's a mutual friend on Facebook.
"I spent 15 hours in jail because of some girl getting my name off of Facebook," Eshenroder said.
As Eshenroder continued to deny the accusation, the victim of the assault eventually told police it must not be him.
"Well, then later on after the victim (Eshenroder) was booked and went through the process and got out of jail then the victim apparently recanted and said I made a mistake that was not the right person," Chief Deputy Branum said.
All charges against Eshenroder were officially dismissed this week.
"But the Google searches and the Firefox searches and the Internet Explorer searches still link my son's name with some pretty bad words," William Eshenroder said.
A quick search of his name still confirms Blake's biggest fear.
A mugshot that makes the college senior worried about his future.
"It's almost like there could be a chance where I have a disadvantage of applying for jobs if my name's typed in, even if I'm more qualified," he said.
The Sheriff's Office says they'll do what they can to make it right.
"This happens so rarely I don't know what the final outcome will be," Chief Deputy Branum said, "But I will say we'll do everything we can to correct the mistake that was made by the victim."
The question now facing the Eshenroder's -- what will make this right?
"So do you just take the kick to the gut and the problems and this cost and say, 'oh well'," William said, "Or do you try and balance the scales a little bit. We're trying to sort that out right now."
The Sheriff's Office is still working to find the true suspect in the case.
The Cronins say once that person is found they intend to move forward with charges.
As for Blake Eshenroder, he graduates with an engineering degree in December.