UPDATE: Renovations to Glass Street were revealed to the public Sunday.
"Well we're on Glass Street and Glass Street used to be Glass Farm," said artist Kevin Bate. "So the idea is it's a stained glass mural of Glass Farm."
undefined
Kevin Bate is the mind behind the mural near Glass Street.
"It's pretty cool," said Bate. "The idea that can take something that started out this big and we decided it's 144 feet long, just the physical act of doing that, seeing it go from small to big is fun."
He was one of the 300 people who gave input on the Glass Street Gateway Initiative and got to see the final results of the project funded by a $25,000 grant.
"It is so cool to see that we've got seating areas and stuff for kids to play and kids making murals," said Bate. "I love all the additions."
Christina Mack with Save-A-Lot said renovations are to increase safety for kids crossing the street from Hardy Elementary and bring more business to an area struggling from the COVID-19 pandemic.
"This has been a two-year making, so we're finally here," said Mack. "It was very hard with the COVID but now we've got it and we've taken off."
She said she thinks the hard work will pay off and businesses in the area will begin to flourish.
"It's a wonderful weight that's been lifted off of us to be able to partner and to be able to get this store up and running," said Mack. "It wasn't easy, but we're here now."
Bate said he hopes his mural helps people see the area in a new light.
"The work that I do and usually on walls, and in this case the street, it doesn't change the way that that area looks, it changes the way people feel about the area," said Bate. "So hopefully if people coming through see this that they're like 'Oh I like this, this is nice.' It changes their whole perspective. It isn't a street you cut through to get from Dodge to Glass."
Mack said the community was excited to see the results but said this is only the beginning.
"They love it. They can not believe that this much is going on but we're finally here," said Mack.
About 210 applicants applied for a grant for projects like this. Chattanooga was one of 16 cities approved.
---
PREVIOUS STORY: After years of planning, a vision for one street in Chattanooga turned into a reality Sunday.
"Being out here is so exciting and we're getting things done," said resident and volunteer Deborah Bledsoe.
For Bledsoe, her life revolves around one little section near Glass Street.
"We have a gospel group called to be within and I live right here one block over, so we frequent the Save-A-Lot a lot. We're so glad to get it in here," said Bledsoe.
She spent her Sunday one block from home sanding, painting, and planning a new look for Crutchfield Street.
"It's a beautiful day," said Bledsoe. "We're just glad to get it going here."
Others joined in both Sunday and earlier in the week, whether it was volunteers, residents, or kids attending Hardy Elementary across the street.
"They're excited about being able to come here safely, they painted on the sidewalk, and it's just great to see the kids involved. They loved it," said Bledsoe.
Christina Mack with Save-A-Lot said the project is aimed at helping these kids, as well as the general area, which she labels a 'food desert.'
"We want to make it very safe for the kids in the community and the community needs it because it's been very dead here lately," said Mack.
Teal Thibaud with Glass House Collective said hundreds have helped over the years and after obstacles from the pandemic, volunteers finally came to transform the area.
"Today it's so incredible," said Thibaud. "After all these months and COVID and all these other things that were roadblocking us, we're here and we're excited to roll up our sleeves and get to work."
Bledsoe said seeing this vision transform Crutchfield Street is exciting and hopes to see more projects like this in the community.
"To see it actually come together is like a beautiful song," said Bledsoe. "When it's completed you just marvel and thank God for all of it. It's really lovely."
There will be a grand opening for the Save-A-Lot next Saturday, April 24.
The ceremony will begin at 11 a.m. and is open to the public.
Thibaud said they also plan to help promote the street with live music this summer.
---
PREVIOUS STORY: A Chattanooga community will be getting a mural painted on a portion of their street after receiving a national grant. 
The Chattanooga Department of Transportation (CDOT) and the Glass House Collective have received a $25,000 grant from Bloomberg Philanthropies as part of the Asphalt Art initiative. 
The program is designed to use art to improve street safety, public spaces and engage communities. 
Teal Thibaud, director of Glass House Collective, said they have spent time improving the community in Avondale.
They have created new sidewalks and planted new trees along the roads.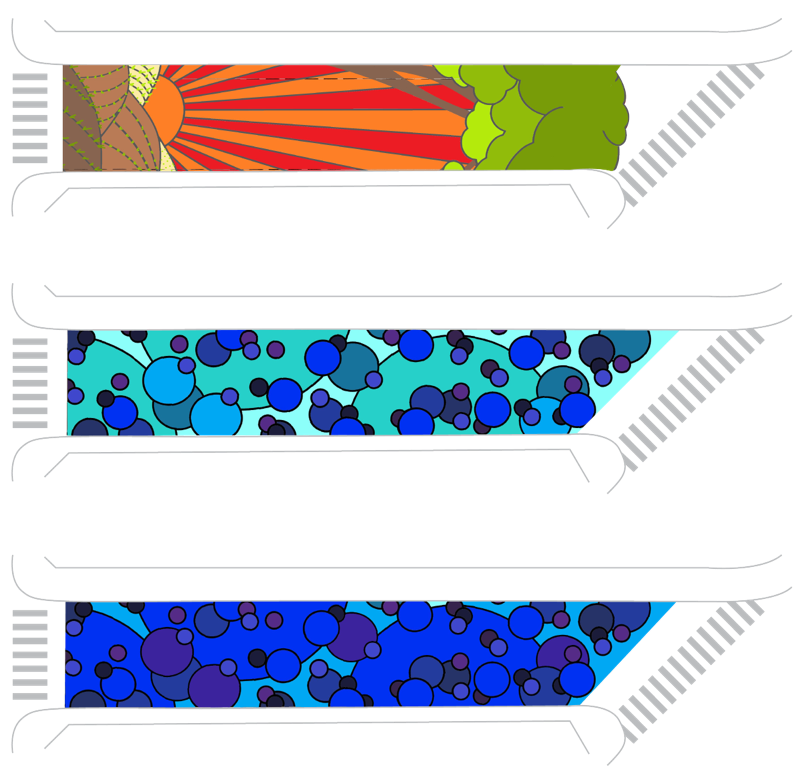 She said they have placed design surveys in businesses like the Save-A-Lot, to give people in the community the opportunity to pick a design.
"You know, our streets are public spaces and sometimes I don't think we think of them that way and so we've been really engaging the surrounding neighborhoods and businesses and what they would like to see for their public space," Thibaud said. 
The mural will be located on Crutchfield St near Glass St in the East Chattanooga area. 
Deborah Bledsoe has been a resident in the community for nearly a decade. 
She believes this project will have a positive impact on the community. 
"It's just going to add a brightness to the area and I think they are going to be proud to see something more growing in the neighborhood," Bledsoe said.
She said more than 300 people participated in the design survey, which will be revealed on Thursday. 
Volunteers will be needed to paint the mural the weekend of April 24. If you are interested, you can visit Glass House Collective's website to learn more.