UPDATE: One person is dead following an incident that shut down a portion of Highway 58 Saturday night.
Chattanooga Police were notified of a single-vehicle accident with possible entrapment just after 7:30 p.m. in the 4900 block of Highway 58.
Once police were on the scene, they found the driver of the vehicle unconscious with a gunshot wound and a child in the back seat.
Police say evidence of gunfire was additionally found on the outside of the vehicle.
The child was not harmed and was transported to a local hospital.
CPD states the driver of the vehicle was pronounced deceased at the scene.
This is an ongoing investigation.
Chattanooga Police ask anyone with ANY information regarding this incident to call 423-698-2525 or submit a tip via the Atlas One App (Formerly the CPD Mobile App). You can remain anonymous. No amount of information is too small or insignificant.
---
PREVIOUS STORY: 
A portion of Highway 58 is closed this evening near Ace Hardware and Jersey Pike.
Chattanooga police say an active police investigation is underway following an incident near Jersey Pike. 
TDOT'S Smartway map shows police activity in the area closed the northbound lane of State Route 58 near 3601 Jersey Pike just after 6:30 p.m.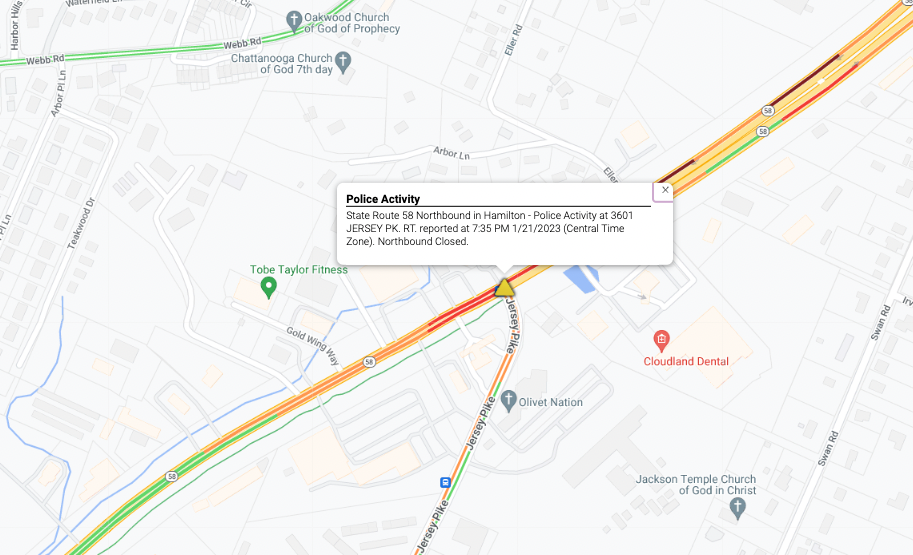 Motorists and residents should avoid this area at this time. 
Stay with Local 3 News as this story develops.