One of Local 3's most decorated investigative reporters and anchors is returning to join the Local 3 News morning team.
Michelle Heron returns to the air on Friday as Morning Anchor, alongside Paul Shahen and Alison Pryor. The announcement was made Thursday on First at Four. Her return to local journalism comes on the heels of Lori Mitchell's departure. Mitchell recently announced plans to relocate back home to Nashville.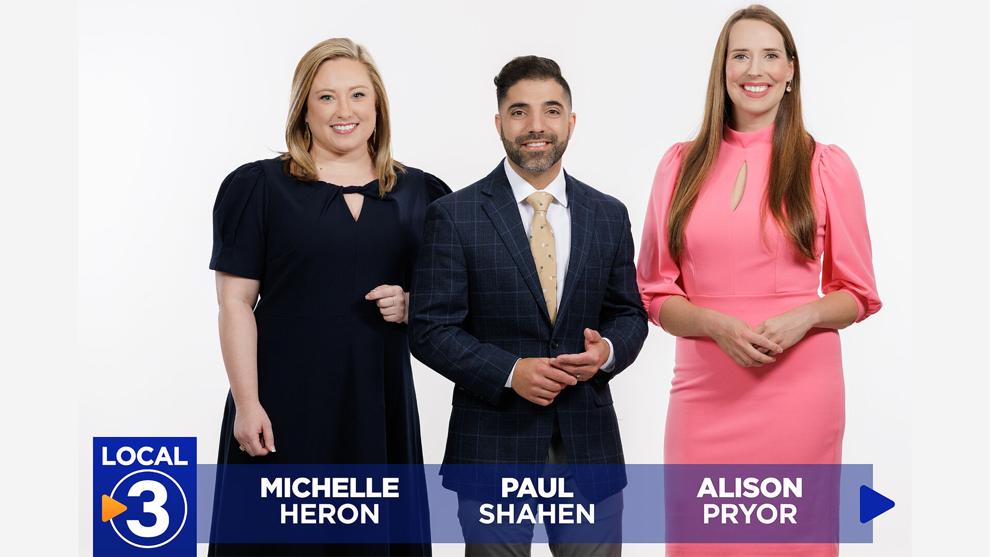 Heron is recognized and respected by Local 3 viewers who got to know her in 2014 when she first joined Local 3 as a reporter, later leading the weekend morning team as the show's anchor and the station's senior reporter. She stepped away from local news in 2021 to pursue a communications and marketing role with one of Chattanooga's main hospitals.
Michelle has covered some of the Tennessee Valley's biggest stories over the last decade, including the July 16 terrorist attacks, Woodmore Elementary School bus crash, and Easter 2020 tornadoes. Michelle's passion for investigating and storytelling has been recognized with numerous awards, including two prestigious Regional Edward R. Murrow Awards.
"Michelle's reporting experience and knowledge of the area will serve the Local 3 viewers well," said President and General Manager Callie Starnes. "I have always been impressed with Michelle's ability to uncover information and get to the bottom of stories. We're thrilled to have Michelle back and we know morning viewers will be, too."
"Local viewers know and love Michelle," added News Director Megan Roberts. "Michelle knows what morning viewers need to start their day, breaking news from overnight, traffic reports that help you plan your commute, and accurate weather forecasting to take along. She joins a reenergized morning team dedicated to doing that every day."
Prior to joining Local 3 in 2014, Michelle anchored and reported at WYMT in Hazard, Kentucky, and WKAG in Hopkinsville, Kentucky. She also worked at WZTV in Nashville.
Michelle is currently pursuing a Master's in Business Administration from Murray State University in Murray, Kentucky. She earned a Bachelor of Arts from Middle Tennessee State University in Murfreesboro, Tennessee.
"I'm glad to be back and cannot wait to get started," said Heron. "I believe in the importance of local journalism now more than ever. I'm thrilled to play a bigger role at Local 3 and join the team in the mornings, where we know viewers are counting on us."
You can catch Michelle weekdays on Local 3 from 5:00 a.m. to 7:00 a.m. Her reports will air throughout the day. You can reach Michelle to welcome her back to Local 3 or ask her to investigate a story by using this email form.