Fort Mountain State Park sits at the southwestern end of the Cohutta Mountains near the Cohutta Wilderness, at 2,850 feet above sea level. The Civilian Conservation Corps put their stamp on this area nearly 90 years ago, enhancing and preserving this beautiful area.
"A lot of the features were built in the '30s by the Civilian Conservation Corps," says park manager, Elliot Murrer. "They dammed one of the springs to create a 17-acre lake. They also built some picnic shelters, campsites, cottages. Those campsites still exist today in a different form."
Hikers, mountain bikers and horseback riders will find some of the most beautiful trails in Georgia, winding through these hardwood forests. There are 27 miles of biking trails, more than 25 miles of hiking trails, and about two dozen equestrian trails.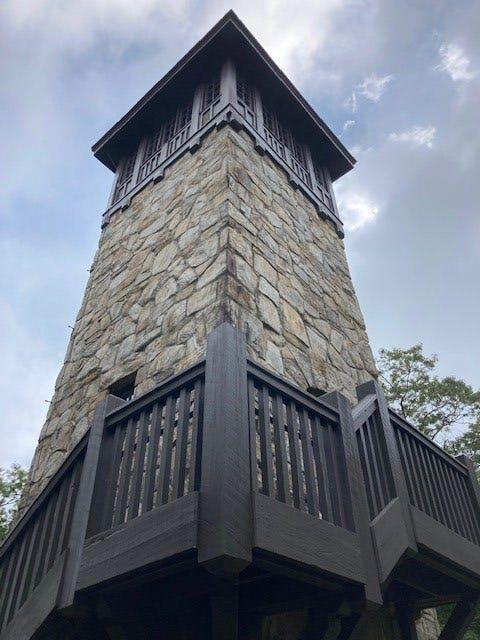 In addition to the views, hikers can also explore a stone fire tower built by the Civilian Conservation Corps and an ancient rock wall that stands on the highest point of the mountain.
"The Civilian Conservation Corps built a fire tower in 1935. In 1971 the top of the tower actually burned down and it kind of remained in that condition until about 2015 when the DNR to restore the tower."
Fort Mountain State Park was designed in part to preserve a mysterious 855-foot-long wall. No one knows exactly the reason behind its existence. Some say Native Americans built it for protection against invaders. Others suggest it was some sort of temple or housing for a mysterious group, known as the Moon-Eyed People.
"The legend says that the moon-eyed people were fair skinned, had blonde hair, blue eyes," explains Murrer. "Some of the accounts say they couldn't see well during the day so maybe they were more nocturnal."
There are 18th Century books written that describe these Moon-Eyed People. It was said eventually that the Native Americans forced them either west or -- underground in various other parts of the Appalachian region.
But where did the moon-eyed people come from? Without documentation, historians are left to estimate their origins.
"There's even a legend of a Welch prince in the 12th Century who was said to come up through Mobile, Alabama and make his way up the Mississippi and possibly coming up into the Appalachian Mountains. And he was never heard from again. But maybe that would connect the moon-eyed people to the story that would recall a European more so than the Cherokee or Creek people would appear."
Shrouded by cloud and a little mystery, Fort Mountain State Park is a great destination for hiking and history lessons alike.
"It's definitely a mulch-faceted park. It's almost like you have a historic site within the state park. You have the history of the CCC, the ancient stone wall here, and on top of that you have all of the recreation amenities that you can enjoy for days at a time."