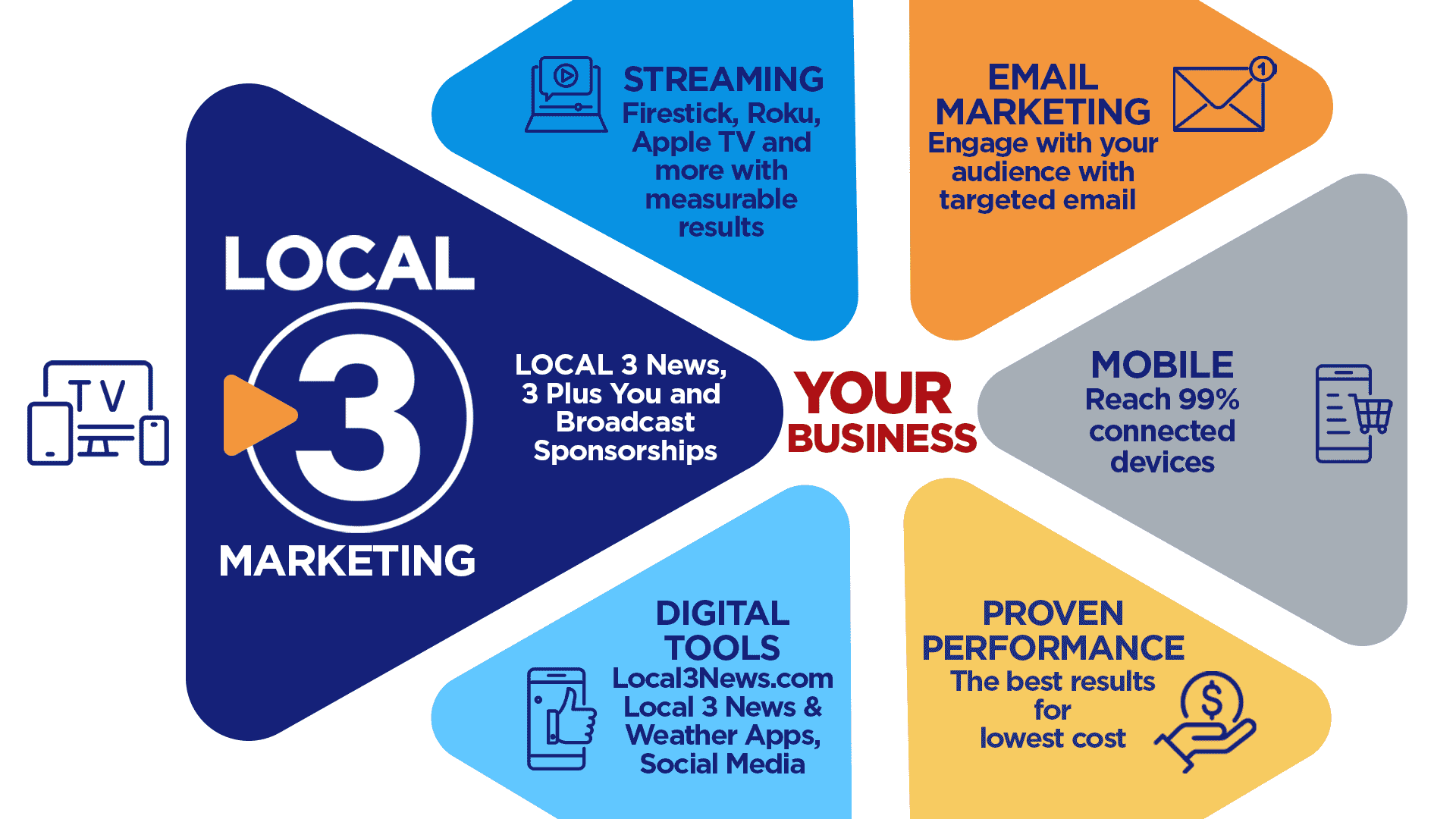 Local 3 is the Tennessee Valley's leading source for advertising solutions that grow your business. We believe the best marketing plans are about relationships. We're ready to understand what challenges our clients are facing and deliver a tailored solution to help meet business goals through the power of broadcast television and digital media.
Connect your brand to the longstanding reputation of the Local 3 News brand with on air advertising during our morning, afternoon, and evening newscasts. Local 3 Plus You is a community-based program that puts you in front of a loyal and engaged following. Local 3 offers the chance to align with NBC entertainment programming and Chattanooga's trusted source for news and weather.
MEET OUR TEAM | The Local 3 Marketing Specialist Team
By utilizing the latest digital marketing methods and targeting strategies, we can help you achieve better results for your target audience. Our team has access to the latest digital tools and data to reach the right customers at the right place with the right message.  Let's start with compelling video or graphic ads to tell your brand story and then set a call to action to drive traffic to your business. 
Why Local 3
Local, Local, Local – We know Chattanooga and the surrounding area. Our local team has the experience and knowledge to meet your needs. We're a local business making decisions every day to better our community.
Proven Performance – Local 3 News, Local 3 News App, Local 3 Weather App, along with Local 3 Plus You and other seasonal offerings, is Chattanooga's leader.
More Reach – We offer access to more digital channels to get your ads to the right target audience.
Customized Plans – There is no cookie cutter approach here. We are on a mission to discover your needs and goals, then create a custom strategy.
In-House Production – Our professional video team will shoot, edit, and roll out your video ads efficiently and make you look great.
Whether you want to see your brand on local television or reach customers through digital media, Local 3 has the tools and experience to help you achieve a better return on your advertising investment.  We do this by first listening to your needs and goals, then customize a plan to help you reach your customers where they are. 
Email the Local 3 Sales team using this form.
You can also reach any member of our advertising leadership team below.
General Sales Manager
423-653-9161
National Sales Manager
423-805-7376
Local 3 Marketing Testimonials

| | | |
| --- | --- | --- |
| | | |
|   |   |   |